Note: The Geozones provided by the UAS manufacturers do not necessarily cover all the restricted areas of Luxembourg territory. Please refer exclusively to the site https://www.geoportail.lu/fr/
Some areas can be dangerous if you operate a drone there.
In order to address this risk, the DAC has therefore - in collaboration with other entities - identified these sensitive locations and the conditions necessary to guarantee the safety of operations. The locations we are speaking of are referred to as UAS geographic areas (or UAS areas).
Operators wishing to access an area will have to comply with all the conditions associated with it (for example: requirement of take-off authorization, pilot training obligation, obligation to notify the flight, etc.).
The text specifying the location and conditions of access to UAS zones is the ministerial regulation of December 16, 2020.
For reasons of readability, the UAS geographic areas, together with their access conditions, are shown on a specific map on the GEOPORTAIL.
A quick user guide is available in English and French and it provides a very quick overview of the operation of the dedicated map.
All pilots and UAS operators are required to inform themselves on the access conditions before each flight in any given area. UAS geographic areas replace the former protection areas defined within the framework of the national system.
As a reminder, the national generic authorization does NOT release its holder from the obligation to respect the conditions of access to UAS geographical areas. The address uas.zones@av.etat.lu can be used for any question relating to UAS geographical areas.
Example of UAS zone map
Click on the image to enlarge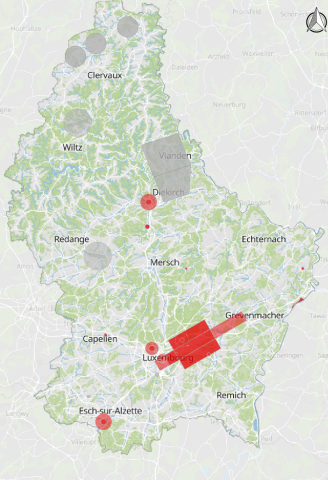 For operations abroad, please consult the conditions of the countries concerned via this link: